2008-05-29: Andrew

Global Edition
Andrew / アンドリュー
| | |
| --- | --- |
| Author: Draconi | Published: May 29, 2008 |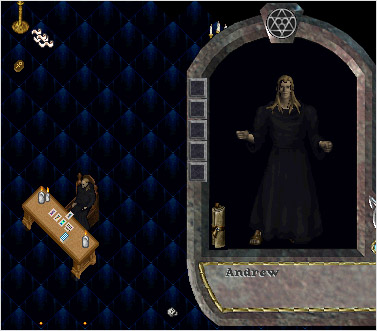 Andrew smiled.
They came one after another, seemingly endless, utterly unbidden and yet so... utterly welcome.
There was a pause now, though, a break in the unending visits to his domain, and Andrew stretched out his awareness. He reached out, encompassing the slick, glassy tiles marking the boundaries of his small world. He followed the light of his candles as they shone into the darkness. Then the inevitable collision.
The Ethereal Void.
His mind reeled at the sheer power and energies playing on the borders of his creation. Yet his paradise had been... despoiled. His masters had warned him, bidding him be patient, to seek first the corruptness lurking in the unwary. To reward them. To mark them.
He obeyed.
Yes, Andrew thought, he obeyed the shadows, and they rewarded him in kind. Immortality, intelligence, and power. His. It was with these abilities he found himself overcoming the sheer chaos that was the Void. There was a crack; a tear - a wrongness.
A wrongness that he knew was perfectly right. His masters had succeeded. They had found another world to consume. Now all he had to do was follow and join his brethren in service. Soon.
With a flash another hapless mortal appeared before him, frozen, completely trapped. Andrew shuffled the deck of tarot cards laid across his desk. The panicked fool was screaming thoughts inside his head, unable to speak aloud, yet Andrew heard every word.
He didn't know where this "Moonglow" was, but understood that soon enough it would be but one of many places where he showed himself. For now, it would serve well enough as an entrance to his realm.
"Ah, another one," he began.
---
アンドリュー(Andrew)は微笑んだ。
招かれた訳ではないにも関わらず、彼らは絶え間なく次から次へとやってきた。それでも……大歓迎だった。
だが、ひっきりなしに彼の住処を訪れる客たちが一息ついたので、休息を取り、アンドリューは意識を張り巡らせた。彼はこの小さな世界の境界線を示している、滑らかで、鏡のようなタイルを包むように意識を伸ばした。闇の中で輝くロウソクの火を追った。必然的に衝突が起こる。エセリアル虚空間だ。
彼が創造したものの境界でゆらめく絶対的な力とエネルギーを前に彼の心は揺らいだ。彼の楽園はすでに……奪われていた。彼の主人たちは、油断の中に潜む腐敗を最初に探すため辛抱しろと忠告していた。彼らに報うために。彼らをマークするために。
彼は従った。
そうだ。アンドリューは思った。彼は影たちに従い、彼らはそれに報いたのだ。不死、知性、そして力。これらが全て彼のものとなった。この力で、彼は自分が虚無である完全な混沌を克服していることを感じていた。ひび割れが裂け目となり - 悪が生まれたのだ。
彼が知った悪は完璧に正しいものであった。彼の主人たちは成功していたのだ。彼らは焼き尽くすべきもう一つの世界をすでに見つけていた。今、彼がしなければならないことは、従い、彼の同胞に加わり任務に携わることだけだ。その時は近い。
閃光とともに、別の不幸な人間が彼の前に現れた。動けず、完全に囚われの身である。アンドリューは、彼の机にあるタロットカードのデッキをシャッフルした。混乱した哀れな人物は、頭の中で叫ぼうと考えているのだが、声を出すことができない。しかし、アンドリューは全ての言葉を聞き取ることができた。
彼はこの「ムーングロウ」がどこにあるのかを知らなかったのだが、間もなく彼が姿を見せることになる多くの場所の一つになるだろうということは知っていた。今の所は彼の領域への入り口として十分機能するだろう。
「またお客さんか。」 彼は始めた。