2012-06-26: Letter from the Producer
Letter from the Producer
Posted Jun 26, 2012 11:53:40 EST by Bonnie "Mesanna" Armstrong on the UO Herald.
Hello everyone,
First off I would like to thank everyone for their kind words to me regarding my promotion. I am writing this because some of you wanted an official Producer Letter so here goes. First I would like to address the Exodus Event reward. The +5 stat scroll will be put in the game as a permanent drop. This is something that was discussed as a team from the very beginning, so if you did not get one at Exodus or were not able to be at the event, you will be able to get it later.
The second part is the future of UO. After we finish the holidays, which does take up a lot of time for creation for Halloween, anniversary, vet rewards etc, we are going to step back and do a major bug fixing publish. Currently we have documented 1173 known bugs in our system, I want to cut that number in half. This bug sprint will not happen till the first of the year so that will give me plenty of time to go over all the bugs in the thread on stratics to make sure we have those documented in our system.
After the major bug sprint we will continue to put in updates to the dungeons, armor and monsters. Of course we will be throwing in other tidbits but it wouldn't be any fun to tell you what they are now. =P
I hope everyone enjoyed Exodus and with that being said here is a fitting screenshot for the downfall of Exodus!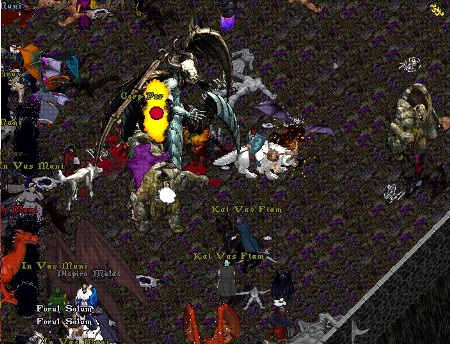 Bonnie "Mesanna" Armstrong
Producer Ultima Online